LED Strobe Truck Light
HYF-8435RA
LED Strobe Truck Light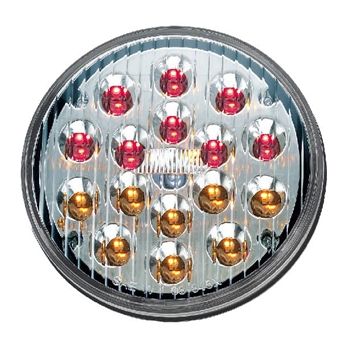 HYF-8435RA LED Strobe Light
including synchronization with other units for simultaneous or alternating operation.
Introduction
LED Strobe Truck Lights are virtually maintenance-free
Powerful Super bright LED which meets SAE Class 1 and CE.
The Heavy-duty grade LED Strobe Taillight is made in 4 inch round Size.
Available in amber, blue, red and clear and the volt system from DC10V through 30V.
Standard
Dia. 4 inch LED Strobe light
Multi pattern: 8 Patterns switchable
Available in DC12V, DC12V-30V.
17 LEDs : SAE Class 1, DOT
PC Lens , Base , IP65
Mount: Grommet (HYF-GM843X)
Color available in LENS and LED
Color
LED Color: Amber, Blue, Red, White, Green.
Dia
Contact YARTON to Get a Quotation Now!
* To get quick response, please fill out the inquiry form in English.