LED Navigation SideLights
HYF-7611-2
LED Horizontal Navigation Light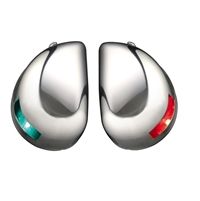 HYF-7611-2 LED Horizontal Navigation Light
Lights for these boats must be manufactured in accordance with the American Boat and Yacht Council (A.B.Y.C.) Standard A-16.
One pair includes Port and Starboard lights.
Compact deck mount LED navigation lamps , power saving and reliable, low current draw .
No bulbs , No maintenance, long service life.
Introduction
.Stainless Steel
.Ultra Low Profile
.Red and Green 12V L.E.D.'s
.Uses 10% of the Energy Draw of Standard Lights
.Low Heat
.Long Life
.L.E.D.'s have no user serviceable parts
Standard
112.5° Light Horizontal
Voltage : 12V
Color : Green / RED
Available in 1-NM and 2-Nm
Color
Contact YARTON to Get a Quotation Now!
* To get quick response, please fill out the inquiry form in English.