LED Strobe Warning Lights (Low Profile)
HYF-5361
Emergency Lighting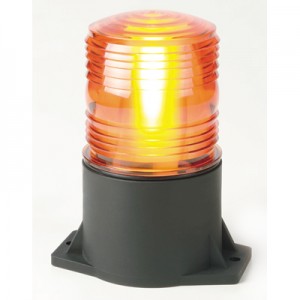 HYF-5361 LED Strobe Warning Lights (Low Profile)
536X Series LED Beacon features a 3 kind of flash pattern, producing a warning signal that is ideal for industrial-type applications. The long, maintenance-free service life of LED technology, make this a perfect replacement solution for existing strobe beacons. This cost-effective light features 12-80VDC and AC voltage operating range that also makes it ideal for use on electrically-powered vehicles and equipment.
Introduction
LED beacons are virtually maintenance-free; never replace bulbs or flash tube.
With High Power LED output the powerful flash and rotating patterns which meets SAE and ECE of 360 degree visibility.
Permanent mount is well known market standard and available in clear, amber, blue, red, and green lens.
Standard
LED Single, Double, Quad Flash (Multi-Flash)
0.25 Amp current draw on 12 Volt system
Vary Flashes Per Minute
High Power LED
Volt System: 12-80VDC
Meet SAE J1318 class 3
CE Certified
Dia. 97mm X H. 130 mm
Color
LENS Color: Red / Amber / Blue / Clear / Green.
Package
Color Box packed, 50PCS/16.7kgs /2.24'
Contact YARTON to Get a Quotation Now!
* To get quick response, please fill out the inquiry form in English.